History of McMullen House
McMullen House is a stately Italianate Villa, c. 1870, originally built for Celia McMullen, who was the first businesswoman of Titusville.  She along with her husband and son-in-law owned the Titusville Iron Works.  The son-in-law, John Bryan built a house across Brown Street, that is now McKinney Hall of the University of Pittsburgh-Titusville.  In 1862, Celia's husband died and in 1871, John Bryan also died.  His passing left Celia the sole owner of the Ironworks until 1885 when she died.  The editor of the Titusville Herald, the local newspaper, lived in the house in the mid-1900s.
History of McMullen House Bed and Breakfast
McMullen House has been a bed and breakfast beginning in the 1980s, except for a brief period during the early 2000s.  In 2012 the Coxe family acquired the house and have re-opened the bed and breakfast with the name honoring Celia.  The house reflects the elegance of the "oil boom" period through Victorian furnishings and gracious lifestyle.
McMullen House Bed and Breakfast Today
Today, McMullen House contains period furnishings in the Parlor and Dining Room.  The library has numerous historical books and journals from the Pennsylvania Academy of Science.  The three guest rooms are located upstairs.
Parlor: contains an Eastlake Suite originally owned by Celia McMullen, which faces a marble fireplace.  Moe period furniture owned by the Coxe family surrounds the suite.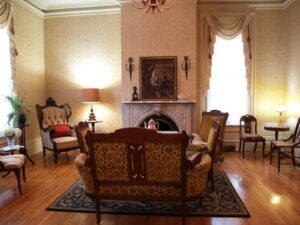 Dining Room: has a table that seat eight people and two other tables for more private dining.  In the morning, a French-inspired breakfast is served here.
Library: contains historical books and a TV for guest use.