Guests at McMullen House Bed & Breakfast are treated to a French-inspired Breakfast each morning. The breakfasts are described below.
Coffee or Hot Tea
Enjoy a cup of Carte' Noire coffee in the morning. Coffee is served before and during breakfast and is also available at other times during your stay.

Hot Tea such as Earl Grey, Yorkshire Gold, or Peppermint Herbal is also served.
Orange Juice
Orange Juice is served with breakfast. A mock-mimosa with Orange Juice and ginger-ale is available.
Apple-Raisin Yogurt Parfait
Apple-Raisin Parfait made with fresh apple, pear, raisin, and granola mixed with vanilla yogurt. The yogurt comes topped with an orange slice or an apple-mint sprig in season.
Strawberries Romanoff
Strawberries Romanoff served with whole strawberries covered with a cream of brown-sugar and cognac.
French toast Casserole
Enjoy a French toast Casserole with Granny Smith Apples, French bread, and French toast topping. Accompanied by seasonal fruit.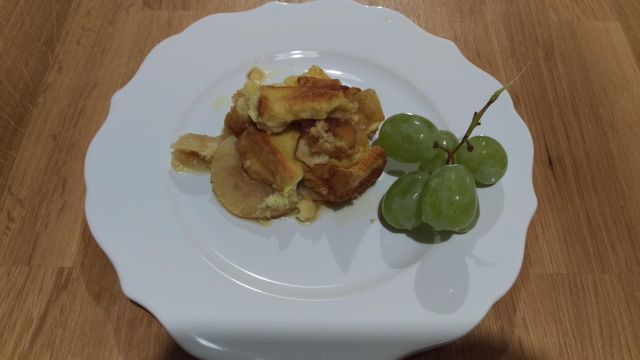 French-scrambled Eggs
Enjoy French-scrambled eggs with Gruyere' cheese, Provence herbs, minced onion, and chives. Eggs are served with a croissant and seasonal fruit.
Apple-Pear Cheddar Crepes
Enjoy three apple crepes filled with fresh apple, pear, and cheddar. Crepes are topped with maple cream and a fresh strawberry or other seasonal fruit.
Apple Breakfast Pastry
Enjoy a breakfast pastry of egg and Gala apple or Crispin apple (in season) with a bread filling. Breakfast is accompanied by seasonal fruit.
French Waffles with Bananas, Pecans, and Maple Cream
Enjoy a sumptuous waffle topped with bananas, pecans, and maple cream. Waffles are accompanied by seasonal fruit.
Image Credits:
• McMullen House Orange Juice by Robert Coxe
• McMullen House Bed & Breakfast Coffee by Robert Coxe