Below are some of the wildflowers currently flowering in the McMullen House Gardens.  Come to McMullen House Bed & Breakfast to see all of the wonderful flowers growing around the house.
Striped Cream Violet (Viola striata) grows in the terrace garden and has a small cream-colored flower that starts blooming in early May.
Canada Violet (Viola canadensis) grows in the lawns and disturbed places.  This plant is located in the side garden near to the Confederate Violet below.
Confederate Violet (Viola sororia priceana) is growing in the side garden of McMullen House.  It is a variety of common blue violet (Viola sororia).  This particular plant has white flowers with purple dots, giving a stippled appearance.
Rosebay Rhododendron (Rhododendron maximum) surrounds the front and sides of McMullen House Bed & Breakfast.  It is generally in full bloom around the time of Memorial Day.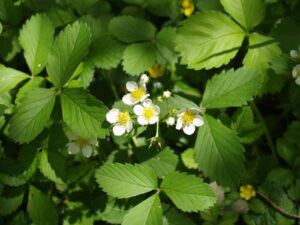 Wild Strawberry (Fragaria virginica) features prominently in the side garden of McMullen House and a number of other gardens.
Siberian Iris (Iris sibirica) is found in the Monet Garden of McMullen House Bed & Breakfast.  This particular cultivar is a white variety with purplish centers.

Next PostRead more articles